Categories
US Law Firm of the Year
This award highlights the US firm that has made the greatest progress over the past year in advancing its strategy, improving financial performance and winning instructions, particularly in the City. A large international presence is not a prerequisite for consideration for this award, although the judges will be looking for strong evidence of success in those foreign markets where the firm has offices.
Announcing the winner 1 October 2020
Shortlist 2020
Akin Gump Strauss Hauer & Feld
Akin Gump has built on its dramatic growth in the City in recent years since its acquisition of Bingham McCutchen's London practice in 2014 with another solid financial year in 2019, with London revenue up to over $125m against a global revenue increase of 6% from $1.07bn to $1.135bn.
Cooley
Cooley's London branch recorded another year of sharp revenue growth as its City outpost outpaced the West Coast firm's global revenue growth for the third consecutive year in 2019, rising 9% to $72.9m just five years after its launch.
Goodwin Procter
In another robust year for Boston's Goodwin, its ever-expansive City arm has seen turnover lift 11% to $74m amid a year of aggressive investment. Notably, the firm's City lateral tally since the start of 2019 also stood at 11, chiefly in the tech practice, and mainly from rival in the space, Taylor Wessing.
Latham & Watkins
Latham reported its second consecutive year of double-digit growth as its revenue surged to $3.768bn in 2019 while profit per equity partner hit $3.78m. In London, growth exceeded the rate globally, with the City office one of the most potent European practices of any US player.
Milbank
London outpaced global growth at Milbank, with revenue reaching $171.2m in the last financial year, an increase of 10% on $156m in 2018. Over the last five years, Milbank has upped City revenue an impressive 55%.
Paul Hastings
In 2019, Paul Hastings' London arm built on its impressive track record of high-profile lateral hires, acquiring Steven Bryan from Hogan Lovells. Meanwhile, former London office head Ronan O'Sullivan was made global managing partner of the firm last year, underlining the key role London plays for this US powerhouse.
Quinn Emanuel Urquhart & Sullivan
Disputes heavyweight Quinn has continued its impressive growth in the City, with 2019 revenue at the firm's London office increasing 20% to £100.6m. The firm also saw profits rise 11% to £67.2m, putting the office's profit margin at 67% and cementing its place as a market leader among litigation-only practices in London.
 
Previous Winners / Nominees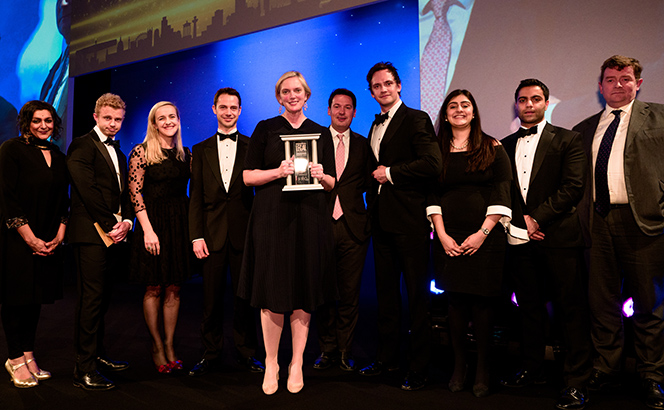 Winner
White & Case
Melissa Butler
2018 financial results continue a blistering run for the firm both globally and in London – City revenue was up 7% to $350m, as firm-wide revenue increased 14% to break the $2bn mark. Sixteen London laterals included infrastructure partner Simon Caridia from Herbert Smith Freehills as the firm ramped up its NY-London focus and ambitious 2020 strategy to go toe-to-toe with the Magic Circle.
Nominee
Cooley HIGHLY COMMENDED
Justin Stock
Cooley's London branch recorded another year of double-digit revenue growth as its top line grew 16% to $66.7m, four years after its launch. For the second year in a row, the City office outpaced the Palo Alto-bred firm's global revenue growth, as the latter rose 14% from $1.07bn to $1.23bn. The firm began the new year with another office launch, opening its first continental European base in Brussels.
Nominee
Goodwin
Samantha Lake Coghlan, Paul Lyons
Goodwin continues its meteoric rise in the City and around the globe. Its London arm grew at more than three times the pace of the firm globally in 2018, hitting $66.8m in the year in which the firm launched a European life sciences practice. The eye-catching 58% growth in London from $42.3m came as Goodwin's global turnover rose 16% to $1.2bn and profit per equity partner was up by
14% to $2.46m.
Nominee
Milbank, Tweed, Hadley & McCloy
Julian Stait
Milbank celebrated its 40th anniversary in London by posting a 25% revenue hike for its City branch to $156m from $125m in 2018. It kicked off 2018 with a number of lateral hires, including a four-partner restructuring team from Cadwalader, and followed that with the hires of Apostolos Gkoutzinis and colleague Rebecca Marques from Shearman & Sterling.
Nominee
Morrison & Foerster
Alistair Maughan
In 2018 MoFo's UK revenue grew 29% to £24.72m in a significant year for its London office, which has in recent times enjoyed considerable success, as has the wider global business. A clear sign of this was the news that the firm had hired one of the City's most respected finance veterans, Chris Kandel, from Latham & Watkins.
Nominee
Paul Hastings
Arun Birla
2018 was yet another strong year for the City arm of Paul Hastings, which has seen headcount and revenue double over the last five years. The results also come after the firm made aggressive hires in the last 12 months, with former DLA Piper private equity partner Anu Balasubramanian and ex-Linklaters M&A partner Roger Barron the standout recruits.
---