Categories
Rising Star In-House Counsel of the Year
The entries have been assessed and our research completed: we are now delighted to reveal the winner of  Rising Star In-House Counsel of the Year for the 2020 Legal Business Awards.
Tying in with our annual GC Powerlist: UK report in recognising outstanding achievements by in-house lawyers below group general counsel level, this award focuses on the rising stars tipped for great things by their colleagues, peers and advisers.
Winner – Philip Aiken, Barclays
Frequently heralded as a mental health and diversity champion, Barclays managing director Philip Aiken has been the driving force behind the high-profile Mindful Business Charter (MBC), an initiative launched by the bank, Addleshaw Goddard and Pinsent Masons to try to mitigate unnecessary stress for in-house and external lawyers.
Sending emails outside of work hours and not expecting staff on annual leave to be on call are some of the practices the initiative is trying to break down. Over 30 organisations have now signed up to the initiative, and Aiken lauds it for encouraging him to have conversations people would rather avoid about mental health.
Changing workplace culture will not happen overnight, but Aiken impressed this year's judges for his efforts in promoting these overdue conversations. Another example is diversity, where Aiken coined the idea of gender 'intelligence' training designed to grow the number of women in senior positions.
Currently, women make up approximately 43% of leadership positions in Barclays' legal function, a figure that puts many law firm partnerships to shame. Gender intelligence looks at different behaviours from men and women and how this can affect dominant workplace cultures.
In a space where platitudes are commonplace, Aiken is a genuine diversity champion. Indeed, his efforts have won him a series of plaudits, with Clifford Chance co-head of corporate, Melissa Fogarty, among those who admire his work.
And, to top it all off, Aiken remains a standout lawyer. At Barclays he acts as head of legal for regulated and unregulated lending, and leads a team of around 30 lawyers.
Highly Commended – Elizabeth Hithersay, S&P Global
As associate general counsel – corporate international, Elizabeth Hithersay is described as decisive, razor-sharp and technically brilliant with the ability to enable the business to achieve desired outcomes in often challenging circumstances, such as her instrumental role in getting S&P Global Brexit-ready smoothly and in good time.
As a New York-listed rating agency with a truly global footprint, S&P Global is subject to a raft of complex financial and corporate regulation. Consequently, it was always going to be a challenge to restructure so its business could run without hindrance post-Brexit. However, Hithersay was up to the challenge, spearheading the restructuring efforts with S&P Global moving its European headquarters out of the UK in anticipation of regulatory changes. It was the first major rejigging of a ratings business, with Hithersay creating rather than adhering to precedent.
Other nominations
Albina Khad, IRIS Software Group
Khad joined IRIS as legal counsel a little over two years ago and has won praise for her responsive, can-do approach to providing pragmatic commercial advice and being a true partner to the business. This includes working on the £1.3bn acquisition of IRIS – the UK's largest-ever private equity backed software buyout.
Lynsey Nicoll, Heineken UK
Since taking on the role as acting head of legal more than two years ago, Nicoll has consistently impressed since Heineken's substantial £403m acquisition of around 1,900 pubs owned by Punch Taverns. Since then, Nicoll's job has been to integrate – with aplomb – the two very large aspects of a business transformed.
Samantha Thompson, Anglo American
Thompson took her first in-house role at the FTSE 100 mining giant in late 2018, becoming head of legal for M&A. She has quickly become the right hand to GC Richard Price and in early 2019 took on an optimisation and innovation role within the legal function.
Previous Winners / Nominees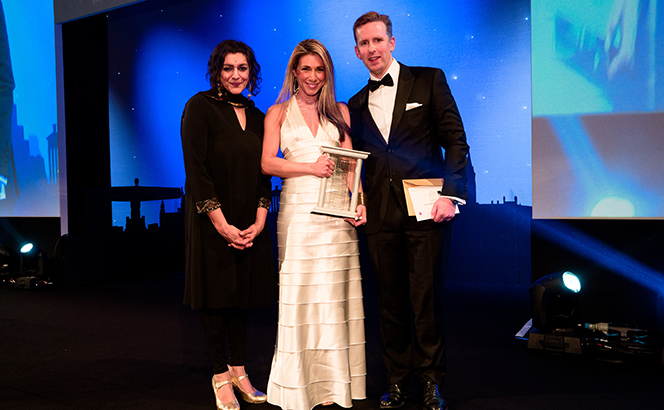 Winner
Frances Coats
The Ardonagh Group
Cited by the group's CFO as a real asset, Coats heads up the non-contentious legal team at Ardonagh. After jointly leading the five-way merger and the bond, bank finance and convertible debt refinancing that created the group in 2017, the last 12 months have seen her lead on one of the group's acquisitions as well as further crucial financings that needed to be carefully structured to fold into the group's existing arrangements.
Nominee
Gordon Blakeway
Knight Frank
The real estate business' only lawyer Blakeway is described by colleagues as 'the next superstar', and is praised for his intellect and approachability. Not only does he handle all legal issues such as corporate, GDPR and intellectual property for Knight Frank, but also found time to set up Next Generation Counsel, a popular in-house networking group.
Nominee
Angelique de Lafontaine
Bupa
Bupa senior legal adviser Angelique de Lafontaine was the legal lead on the international healthcare company's launch of a digital innovation incubator named Blue Table. She has also been consistently praised for work outside of day-to-day tasks and singled out for praise by Bupa chief legal officer Penny Dudley: 'her work has been critical for us.'
Nominee
Nicola Hughes
Marsh & McLennan
Head of privacy for Marsh UK & Ireland in addition to her role as a senior litigation lawyer, Hughes has won plaudits from colleagues, the insurance industry body and law firm partners for her work preparing Marsh for the GDPR and demonstrating thought leadership through her work with the UK insurance industry to lobby for crucial changes to data protection legislation.
---