Categories
Private Client Team of the Year
We are delighted to announce the winner of Private Client Team of the Year for the 2020 Legal Business Awards.
This award recognises the top private client teams in the country, either offshore or onshore, handling high-value work in the areas of estates, charities, family, contentious and non-contentious trusts and probate, as well as personal tax, particularly to high-net-worth individuals and families.
Winner – Baker McKenzie
Bakers claims that it is 'unmatched in the market in terms of our international coverage and ability to serve the world's wealthiest families' and, on the evidence, such claims are justified, according to our judges. The global firm's offering comprises lawyers (litigators and tax experts), accountants, transfer pricing specialists, economists and VAT/customs experts, to provide a one-stop shop for clients with complex structuring needs.
Recent work includes acting for a well-known and successful ultra high-net-worth individual in global litigation that has been running since 2010. The client is seeking to recover more than $15bn in assets that belonged to his father, the deceased founder of an Asian conglomerate, and are now held by various trustees, individuals and companies. Two separate claims are underway in Bermuda (and are believed to be the largest trust dispute ever in that jurisdiction) in addition to similar US proceedings. The firm successfully obtained summary judgment in 2019 (Wong v Grand View Private Trust Company Limited), which is currently being appealed. The Bermuda claims raise novel, Privy-Council-worthy questions of trust law, particularly involving non-purpose trust structures.
The team also advises a selection of the wealthiest clients in the Middle East including advice on fund and other structures for very high value commercial and private projects and continued advice on disclosure, including under the common reporting standard, beneficial ownership registers and the new European Directive on Administrative Cooperation (DAC 6) now needing consideration in relation to any structure put in place. The firm is coordinating all transactions, including a particular project representing the highest value transaction in the careers of the team, for these clients globally. A worthy winner.
Highly commended – McDermott Will & Emery
McDermott acted for the beneficiary of a Bahamian trustee and her adult children in the landmark UK Court of Appeal case of Dawson-Damer v Taylor Wessing. This case, which has garnered ongoing media attention, transformed the right of trust beneficiaries to documents and personal data held by trustees and their lawyers.
Led by London co-head of private client Ziva Robertson, the McDermott team secured a momentous victory for Dawson-Damer, seeking the release of personal data held by their trustee's law firm, Taylor Wessing.
Other nominations
Forsters
A major highlight for this private wealth-focused firm was its coordination of a global succession plan for the second generation of an Asian family, which involved the development of a family constitution and a structuring exercise involving the reorganisation of 100 companies worldwide.
Gherson Solicitors
Throughout 2019 this firm represented Zamira Hajiyeva, the woman at the centre of the so-called McMafia 'dirty money' investigation, including successfully defending an extradition request from the Republic of Azerbaijan.
Macfarlanes
This respected team acts in a general legal capacity to a major family office as an outsourced legal adviser on a range of issues, including the restructuring of a series of trusts holding a majority stake in a major non-UK listed business.
Taylor Wessing
Representing Equity Trust (Jersey), the appellant, in the Z Trust litigation, running proceedings in the Jersey and English courts in which it successfully argued and established new principles of trust law.
Previous Winners / Nominees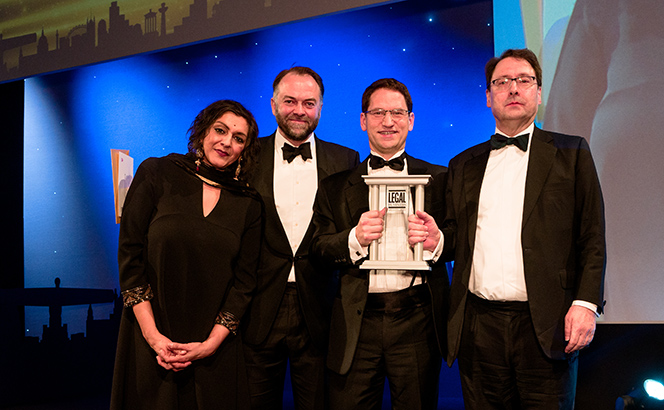 Winner
Bryan Cave Leighton Paisner
Damian Bloom
The firm now offers a truly global practice following its 2018 transatlantic merger. It has made a particular impression in Shari'a-compliant succession planning structures and continues to lead in real estate matters for private clients, including directly held, diversified and corporatised residential real estate.
Nominee
Stephenson Harwood HIGHLY COMMENDED
James Quarmby
The London private wealth team achieved a 20% fee-income increase in the last financial year on the back of key highlights, including substantial victories in Gany Holdings v Khan & ors; Rangoonwala v Khan & ors, setting a precedent for the advancement of trust assets and clarifying the existing law on trustee's discretion.
Nominee
Charles Russell Speechlys
Andrew Cameron
The firm underlined its commitment to the practice with the appointment of four new partners in 2018, following the launch of a Hong Kong office in 2017 and expansion in Switzerland. Recent highlights include advising an ultra-high net-worth family and trustees on the disposal of high-value property interests to the family's property management company.
Nominee
Collyer Bristow
James Badcock
The hire of experienced family law partner Tanya Roberts from Charles Russell Speechlys was a major fillip for this City firm. It also advised a long-term client on wealth structures involving six offshore trusts along with underlying companies, having a total value of £1.4bn, as well as another on a $6bn cross-jurisdictional trust.
Nominee
McDermott Will & Emery
Ziva Robertson
The firm successfully represented Truchot Trustees in obtaining a highly favourable judgment in an unusual case before the Chancery Court. The team managed to set aside potentially disastrous litigation on the basis that the client had no knowledge of the litigation and the firms representing it were doing so without proper authority.
Nominee
Womble Bond Dickinson
Neil Long
The UK private wealth division saw revenue grow by 11% in the last financial year and, following the merger with Womble Carlyle in 2017, the team has seen a significant increase in engagements from US-based private banks and financial institutions, including advising a family with a net worth of over £1bn on succession planning.
---