Categories
Management Partner of the Year
We now come to the penultimate award of our 2020 Legal Business Awards season and we are delighted to reveal our Management Partner of the Year.
The winner of this award is a UK-based managing partner, senior partner, head of chambers, chief executive or chief operating officer who truly led the way for their business in 2019. Key factors that influenced our judging panel included market profile, outstanding strategic thinking, superb communication skills and the extent to which these individuals have the support of staff and clients in driving the firm's business forward.
Winner – Paul Jenkins, Ashurst
That Paul Jenkins was reappointed as Ashurst's global managing partner for a second four-year term last summer spoke volumes, reflecting the credit he has won for turning Ashurst's fortunes around following a struggles with profit and revenue growth since the merger of Ashurst and Blake Dawson in 2013.
Hitting every metric for success for the 2018/19 financial year, with profit per equity partner increasing by 61% and revenue enjoying a 27% uptick, Ashurst acknowledges Jenkins for 'the clarity of his vision, strength of his leadership and inimitable work ethic'. And justifiably so.
Jenkins has pioneered a sharp focus on key practice areas, the success of which is reflected in 90% of the firm's revenue now being generated by those sectors, while performance has been bolstered across all regions and investment in Asia has yielded impressive results.
He has also won plaudits for streamlining the executive and promoting a high-performance culture, abolishing lockstep in favour of a merit-based remuneration system, stepping up staff performance reviews and encouraging collaboration.
Jenkins also oversaw the implementation of extended points and a bonus pool in which all partners can participate. Elsewhere, Ashurst Advance was made into a division of the firm, highlighting a heightened emphasis on innovation and digital transformation. The year also saw the launch of Ashurst Digital Ventures, the in-house development and investment arm of Ashurst Advance, which creates, designs and builds digital products.
Jenkins has also been commended for re-setting gender targets and for making strides in the firm's diversity and inclusion agenda. He was the first law firm leader to join the Male Champions of Change programme in Australia, which works with leaders in the business community to redefine men's role in promoting gender equality.
Ashurst says of its respected global managing partner: 'The firm demanded transformative and decisive leadership, which is precisely what Paul Jenkins has delivered. He has ensured that Ashurst has continued to evolve, adapt and renew itself which has delivered for the firm, its people and its clients.'
Highly Commended – David Pester, TLT
April 2020 saw David Pester, one of the UK's most successful and longstanding law firm leaders, step down as managing partner of TLT, a firm that he has taken from Bristol-focused contender to a top 50 firm in the Legal Business 100.
Since Pester was elected to the helm in 2001 following the merger of Trumps and Lawrence Tucketts to form TLT, revenue has grown from just £8m to £87.6m; the firm has opened six new offices; and increased in size to more than 1,000 staff.
His legacy as he made way for incoming managing partner John Wood has been a solid financial foundation and exceptional governance. In 2019 Pester said of his stepping down: 'One of the things I've learned over 19 years is whenever you go through the different trading cycles there's always opportunity. I've been making sure the TLT balance sheet is as strong as possible to take advantage of difficulties others may face in the market if it becomes more uncertain. John's got a fantastic platform to work from.'
Other nominations
Charles Martin, Macfarlanes
Macfarlanes remains one of the most successful and profitable operators in the City, which is largely thanks to the outstanding leadership of senior partner Martin over the last 12 years. As the firm saw new leadership take over in April, it should acknowledge the contribution of Martin's cool head at a time when many rivals were losing theirs. A class act.
Lee Ranson, Eversheds Sutherland
While Eversheds has had its fair share of successful and charismatic leaders over the years, Ranson has driven the firm during one of its most progressive phases since being elected in 2016. Financial performance has been strong since its transformative tie-up with Sutherland Asbill & Brennan, while the spin-off of alternative service Konexo in 2019 was the latest strategic masterstroke.
Michael Ward, Gateley
Ward hung up his boots in May after more than 30 years at Gateley, having achieved more than most law firm leaders possibly could. While remaining a shareholder in the UK's first-ever listed law firm, Ward hands over a firm that has gone from a third-tier Birmingham outfit to a £100m national player via a tie-up in Scotland and a stock market listing.
Previous Winners / Nominees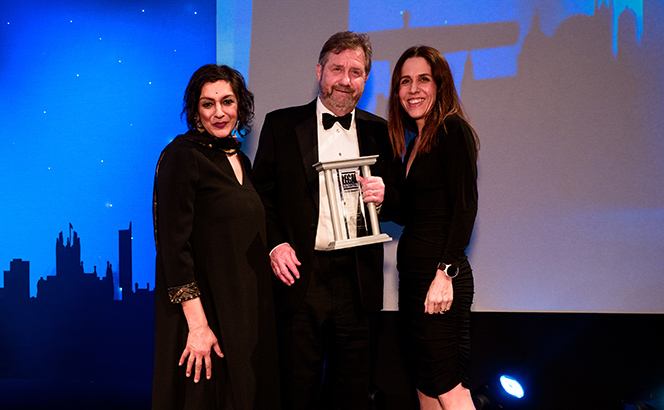 Winner
Nick Thomas
Kennedys
In revenue growth terms, far and away the top-performing firm in the 26-50 bracket of the LB100 was Kennedys, which recorded a 31% rise in global turnover and 14% for UK income. Thomas, who was re-elected to serve a fifth five-year term as senior partner to run from 2017, has overseen some significant expansion, with revenues growing 68% over the past five years.
Nominee
Richard Crump HIGHLY COMMENDED
HFW
When Crump was first elected senior partner in May 2007, Holman Fenwick Willan was a 240-lawyer shipping firm with just eight offices around the world. Barely a decade later, HFW is a thriving, multi-sector business with more than 600 lawyers and 20 offices across five continents. The firm's revenue has almost tripled during his leadership, increasing from £67.7m to £179.1m.
Nominee
Ray Berg
Osborne Clarke
In 2018 OC elected its UK managing partner Berg to a second term in a glowing endorsement of the firm's growth since his first term began in 2015. The most recent financial results confirmed a five-year average of double-digit revenue growth, as global turnover rose 14% to €273m: it has increased 112% since 2013, making OC one of the top performers in the LB100 over that time.
Nominee
Chris Hale/David Patient
Travers Smith
Managing partner David Patient and senior partner Chris Hale formed an experienced duo at the helm of Travers Smith during arguably its most successful period, with the former in place since 2015 and the latter since 2013. For Travers, 2017/18 was its ninth consecutive year of growth, yielding an 18% uptick in turnover to £146.9m and a 24% surge in profit per equity partner to £1.2m.
Nominee
Peter Hasson
Clyde & Co
Consistently cited as a much-needed business-savvy leader since becoming a non-lawyer chief executive, Hasson has played a crucial role in developing the firm since 1997. He has ensured Clydes has been a commercial success despite considerable market headwinds – the 2017/18 turnover of £551.3m means the firm's revenue has grown by nearly 200% on a ten-year track.
Nominee
Philip Rodney
Burness Paull
In 2018 Rodney stepped down as chairman and figurehead of a firm he shaped into a Scottish business leader over a 12-year period. During that time, he led Burness through a transformative merger with Aberdeen's Paull & Williamsons, which redefined the Caledonian top tier and placed his firm as one of the three leading independents in a highly competitive market.
---