Categories
Legal Technology Team of the Year
The entries were reviewed and our panel of general counsel judges delivered their verdicts: we are now delighted to reveal the winner of Legal Technology Team of the Year for the 2020 Legal Business Awards.
In this category, we recognise the law firms, in-house teams and chambers, either offshore or onshore, that have pushed through innovation and secured competitive advantage for their business. Important factors are fresh approaches in creating and delivering legal products, including utilising technology and new business models.
Winner – Taylor Wessing
Ask any risk expert at a law firm what the biggest threat to their business is, and data breaches will always feature high on the list. But Taylor Wessing is stiffening the defence against such occurrences, with the firm launching a novel piece of legal tech to help target breaches, making the firm the standout choice for this year's award.
Many businesses are now subject to cyber attacks, particularly fast-growing companies with less steeled security capabilities. Taylor Wessing's TW:detect software was developed by its head of cybersecurity, Paul Glass, in collaboration with Pervade Software. The tool scans client websites for points vulnerable to attack and reduces the amount of data theft from businesses.
Taylor Wessing created the software in light of the Magecart attacks, which affected numerous companies in recent years. Magecart-style attacks are a form of data skimming, which collect sensitive information from online payment forms, such as email addresses, passwords, and credit card numbers.
Not only did Taylor Wessing identify the problem, but the firm went from concept to launch in under six weeks. Currently the software has two applications, with the first scanning conventional websites, where many Magecart-style attacks happen in real time. The second searches the dark web to identify potential data breaches aimed at stealing personal data, including bank details, as well as scanning websites for indicators of hacking. The TW:detect team are then notified of the results and work with the client to respond to the threat.
'Taylor Wessing has helped us develop our product by looking at innovative applications for us and new ways it can help their clients,' says John Davies, director of Pervade Software. 'Their lawyers are widely known for their expertise in technology and in the sector so, for us, it was a no-brainer that they should be the first law firm that we collaborate with.'
Highly Commended – Kemp Little
Technology-focused boutique Kemp Little narrowly missed out on this year's award, after the firm developed two in-house technology tools: Dupe Killer and 4Corners.
Dupe Killer is a subscription software product that protects clients' valuable designs. While software that provides protection against counterfeit products is not new, Dupe Killer can identify products which may only copy one aspect of an original design, and not bear fake trade marks.
4Corners, meanwhile, analyses contracts and gives structured legal advice. It provides instant delivery to difficult legal questions that would otherwise take weeks of work to answer. The software was developed after the firm identified an acute client need during a piece of share sale work. With legal opinions needed on numerous interlinked documents and existing software feeling the strain, Kemp Little responded by creating a subsidiary called KL Technology to invest in the development of new tech, resulting in 4Corners.
Other nominations
Herbert Smith Freehills
Since its launch in 2011, HSF's Alternative Legal Services team has evolved into a comprehensive client service model through its five eDiscovery hubs and 350 legal and technology specialists across 11 cities. Clients report the service has improved the capacity of their own legal staff to work on other matters, representing important added value.
Kennedys
This insurance-focused firm's proprietary tech tool, KLAiM, assists insurers and organisations managing insurance claims in-house and has achieved notable success in the UK with clients such as Admiral, AXA and ERS adopting the tech. The firm is also undertaking transfer partnerships with the University of Manchester and UCL to develop next-generation fraud prevention software and an emerging risk analytical tool for insurers, respectively.
Slaughter and May
Through its investment and work with Luminance to its tech incubator programme, FastForward, Slaughters has been an unexpected pioneer of the use of tech in law in recent years. This was underlined in 2019 with the successful launch and execution of the firm's first client-led legal tech programme, Collaborate.
Stephenson Harwood
The firm has, in collaboration with document automation specialists, created Deed Architect – a bespoke tool for use in drafting pension deed documents. Deed Architect transforms the way in which deeds are created, using artificial intelligence to perform the drafting while also bringing a greater certainty of accuracy.
Previous Winners / Nominees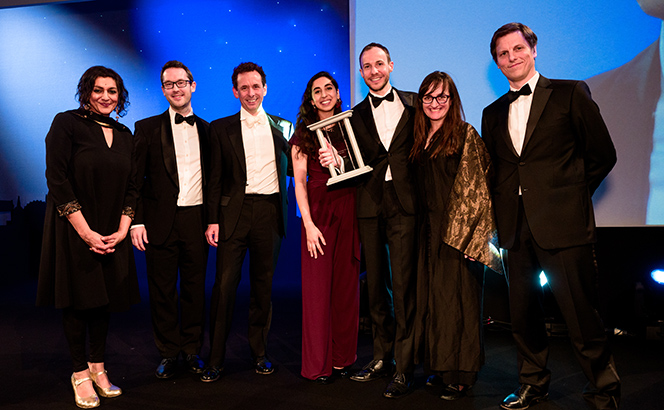 Winner
Bird & Bird
Matthew Noble
Launched in late 2017, Pattern is a bespoke cloud-hosted software solution for valuing IP portfolios. It determines fair, reasonable and non-discriminatory (FRAND) royalties, comparing patents and calculating values at historic dates. Pattern took two years to develop with input from clients, economists, academics, statisticians and technical experts. It has been used by multiple clients, in particular Nokia.
Nominee
Wiggin HIGHLY COMMENDED
John Banister
Wiggin's online brand and IP protection business INCOPRO received $21m in investment from Highland Europe. Headquartered in London, INCOPRO has analysts in the US, Europe, and Asia and the investment will allow INCOPRO to accelerate the development of its technology internationally.
Nominee
Charles Russell Speechlys
Stewart Hey
The multibillion Saad dispute that ended in May 2018 concluded a decade of litigation and a 129-day trial in Cayman where the use of technology was pivotal. The discovery process involved 2.5 million documents and 1.4 million rows of transactional data. CRS deployed sophisticated data analytics, bespoke algorithms and developed its own innovative tracing tool to reach a successful outcome for the client.
Nominee
Gowling WLG
Jacqueline Knox
Developing bespoke tech on a Cloud-based platform for its client the Sanctuary Group, providing a work allocation interface that is quicker, intuitive, accessible via multiple devices, and offers greater potential functionality and increased security. This collaborative workflow app is claimed to be the first of its kind in the UK legal sector and has been used on 528 matters opened for Sanctuary in 2017/18.
Nominee
Pinsent Masons
Lucy Shurwood
Complex and client-focused, Pinsents applied its SmartDelivery approach on a major due diligence project for Barclays. The firm used its proprietary software TermFrame for the bank on a multi-billion-pound synthetic securitisation, referencing a pool of over 100 loans, with feedback from the client notably positive.
Nominee
Zeidler Legal Services
Arne Zeidler
Zeidler Legal Services only launched its Global Knowledge Hub in June 2018. Drafted from scratch, it offers a high-tech service for asset managers to keep up-to-date with legal and regulatory requirements for registering and marketing funds across borders via an AI-based chat bot. Providing an alternative solution for smaller and medium-sized asset managers compared to higher-priced tools, it covers multiple jurisdictions.
---