Categories
Law Firm of the Year
At last – the one you've been waiting for – we are delighted to reveal the Law Firm of the Year for the 2020 Legal Business Awards. 
Only the most outstanding law firms over 2019 made the shortlist in this, our most prestigious award. Judges were looking for a firm that took the market by storm and achieved more than their direct competitors and peers. Achievements may include – but are not limited to – the successful development of new practice areas, expansion into new international or domestic markets, new client wins, the completion of a strategic merger or acquisition, improved financial performance, or a successful recruitment policy. The winner of this award is quite simply the best in the business right now. 
Winner – Eversheds Sutherland
Eversheds Sutherland emerged as a clear winner. Not only was the firm successful commercially, turning in strong financials and pointing to a number of major new client wins and panel reappointments for global giants, but it has also made a difficult transatlantic merger work under strong leadership; completed a strategic masterstroke with the spin-off of its alternative legal services arm; bolstered its ranks with some prominent lateral hires; and nailed its colours to the mast with firm targets for ethnic diversity.  
Eversheds was the only firm in the top ten of the LB100 to record double-digit revenue growth for 2018/19, building on its 2017 transatlantic merger with a 14% revenue uptick to £890.2m while PEP rose 8% to £886,000. The US project has been a clear success and accordingly, the firm announced new office launches in Chicago and San Diego during 2019. 
However, the decision to spin-off its alternative legal services business into a separate corporate structure, called Konexo, and open that up to outside investment to rapidly scale up was bold and innovative. When Eversheds' New Law offerings were established in 2011, an initial revenue target of £10m was set. Now at £40m, Konexo is aiming to generate £100m within the next five years and was the only firm to set out its stall so clearly. 
With financial success and strategic acumen in ready supply, Eversheds' stock has simply grown, both in terms of GCs regularly citing the firm as a go-to adviser to Legal Business but also in terms of attracting noted talent from other firms. This was obvious in 2019 with a virtually unheard of lateral hire from Slaughter and May in Hong Kong – disputes partner Mark Hughes, while the firm boosted its credentials in the upper-mid-market corporate space considerably with the hire of Giles Dennison, the former UK head of corporate at Simmons & Simmons.  
The firm also took the opportunity in 2019 to hold its hand up and point to its shortcomings in terms of promoting ethnic diversity. The firm was clear on its desire to do better and has committed to clear and measurable targets. By 2025 the firm wants 10% of its UK partnership to be comprised of BAME lawyers, with the figure currently standing at just over 5%. Throughout its UK workforce, including partners, the firm wants to hit 14% BAME representation by 2022, with the figure currently sitting at just below 12%. 
Our congratulations go to Eversheds Sutherland, which thoroughly deserves its title of Law Firm of the Year. 
Highly Commended – DAC Beachcroft
DAC has well and truly turned things around after a period of drift, clearing nearly £40m of debt in the last four years. Revenue at the firm grew 6% to £243m in the year to 30 April 2019, building on an 11% uptick the previous year, and coupled with a 10% increase in profit to £52m. Profit per equity partner similarly increased 8% to £570,000. 
It has been an expansive period for the firm. In 2019, it lured across a five-partner City insurance team from Norton Rose Fulbright while also launching in Paris and Belfast. Meanwhile, in January of this year, the firm doubled its Madrid presence after securing a tie-up with three-partner insurance boutique Asjusa. 
Tougher governance and a more commercial outlook under managing partner David Pollitt and senior partner Virginia Clegg means the future looks bright for this City institution. 
Other nominations
Addleshaw Goddard 
Back in 2014, not many – if any – would have predicted Addleshaw Goddard would boast one of the highest percentage growth rates in profit per equity partner (PEP) across the Legal Business 100 over the next five years. But with PEP increasing 13% to £730,000 in the 2018/19 financial year, it has risen an impressive 87% over that time. 
Harbottle & Lewis
The firm has enjoyed a particularly strong run of form over the last five years and 2019 was another exceptional year, with revenue up 8% to  £38.5m – double what it was six years ago. The increase in top line hasn't occurred at the expense of profitability – the firm ranks 14th in the LB100 across key metrics. 
Kirkland & Ellis
Described by Legal Business as 'an evolutionary force in a raw Darwinian sense', the world's highest-grossing law firm and one of the fastest-growing firms continues to polarise opinion, not only because it struck out on its own but also because its success has further exposed the soft underbelly of many top-tier firms in New York and London. 
Osborne Clarke
One of UK law's success stories of the past five years is undoubtedly Osborne Clarke, which has increased its top line 89% since 2013/14 to  £268.5m, the second-best five-year performance in the UK top 100 – off the back of its international expansion. Although its PEP growth stalled in 2018/19, it has risen 37% since 2014 to £703,000. 
Travers Smith 
This City outlier marked a tenth consecutive year of revenue growth in 2018/19 with an 11% increase in turnover. Revenue at the firm grew to £162.5m for the 2018/19 financial year – good for growth of just under 70% over the past five years – while PEP hit £1.25m. Since 2009, Travers has grown from being a £64.5m business. 
Previous Winners / Nominees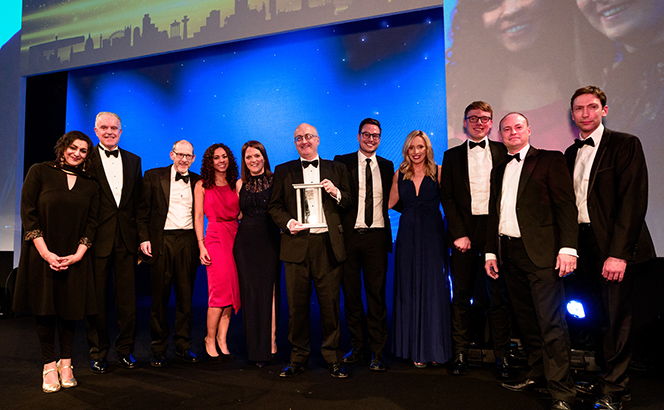 Winner
Pinsent Masons
Richard Foley
Pinsents is no slouch in financial performance terms – in the last five years revenue has grown 40% and profit by 60% – but it is committed to be judged by a broader set of yardsticks. This is why in the last 12 months it has renewed its sole adviser mandates with key clients Balfour Beatty and E.ON, and achieved a 93% 'likeliness to recommend' score in an independently run client feedback programme.
Nominee
Kirkland & Ellis HIGHLY COMMENDED
David Higgins, Stephen Lucas
Kirkland has set the pace on both sides of the Atlantic, becoming the highest grossing law firm in the world. In 2018 the firm continued its remarkable run, not least in London which saw a bumper partner promotion round and the lateral hire of Adrian Maguire from Freshfields, a year after its market-defining move for David Higgins.
Nominee
Clifford Chance
Matthew Layton
In 2017/18, CC emerged as the strongest-performing Magic Circle firm in the LB100. The only firm among London's big four to have retained its position in the LB100 table, Clifford Chance added £83m to its top line to hit £1.623bn. But it was the 16% surge in profit per equity partner (PEP) to £1.6m where CC edged ahead of its rivals.
Nominee
Harbottle & Lewis
Glen Atchison
Harbottle maintained its status as one of London's fastest-growing law firms, continuing its recent trend of double-digit growth and proving itself as a LB100 standout. Overall revenue increased by 26% to £35.5m, up from £28.1m last year, while PEP increased by 32% to £670,000. Over the last five years, the firm has seen revenues grow 48% and profit by 86%.
Nominee
Macfarlanes
Charles Martin
Another standout performance came from Macfarlanes in 2018, which broke the £200m barrier after a remarkable 20% uptick in turnover to £201.5m. The firm also cemented its position as one of the most profitable operators in the Square Mile, increasing PEP by 26% to £1.74m, higher than most of the Magic Circle.
Nominee
Simmons & Simmons
Jeremy Hoyland
Simmons turned in its strongest set of results since the banking crisis, hiking revenues 12% to £354m. Amid a year of sustained foreign expansion into Dublin and Luxembourg in particular, the firm also saw PEP grow 8% to £686,000. This organic revenue growth was higher than anticipated and due to high demand in its core sectors of funds, financial institutions, healthcare and life sciences and TMT – proof that Simmons has its playbook right.
---