Categories
International Arbitration Team of the Year
After much back-and-forth between the judges in a keenly contested category, we are now delighted to reveal the winner of International Arbitration Team of the Year for the 2020 Legal Business Awards.
The winner of this award demonstrated pre-eminent advice in a single matter, be that acting for private corporates, investors, state-owned enterprises or states themselves in international commercial arbitration or investment treaty arbitration.
Sponsored by
Winner – Cleary Gottlieb Steen & Hamilton
It is not often you secure one of the largest commercial arbitration awards ever made, but that is exactly what Cleary Gottlieb Steen & Hamilton achieved in 2019, making the firm the standout contender for this year's category.
Headed by disputes partner Jonathan Kelly, along with litigation and investigations partner James Brady, Cleary successfully concluded a four-and-a-half-year battle for Brazilian mining group Vale concerning allegations of fraud and bribery against its mining partner in Guinea, BSG Resources (BSGR). The matter was resolved with a remarkable $2bn victory for Vale after related legal proceedings took place in the US, UK and Switzerland.
'Cleary fought like tigers on Vale's behalf to prove BSGR's fraud,' said Thiago Mucury Cardoso, legal counsel at Vale. 'Vale's good name and reputation was completely vindicated'.
Vale accused BSGR of engaging in bribery to obtain mining licences in Guinea, a share of which it then fraudulently sold to Vale. With Cleary leading the claim, The London Court of International Arbitration (LCIA) ruled in favour of Vale, despite numerous efforts from BSGR to stymie proceedings.
Added Cardoso: 'Cleary displayed a remarkable can-do ability to find solutions to every obstacle or problem that our opponents raised. Every time we turned to Cleary, it delivered for us.'
Such were the problems faced, Cleary drafted lawyers from its London, New York and Paris offices to pursue the claim. It then thoroughly investigated BSGR's complex offshore corporate structure, traced its cash flows, persuaded material Guinean witnesses to testify in London, and extracted incriminating evidence from BSGR itself. All this work culminated in a devastating and forensic record presented to the LCIA.
The compelling case made by Cleary saw a final award of $1.25bn in damages and $775m in pre-award interest, post-award interest, costs, and legal fees. Concluded Cardoso: 'These results were achieved by Cleary's technical excellence and understanding, its absolute and unswerving commitment to Vale's cause, and its refusal to take a step back when confronted with BSGR's numerous attempts to derail the arbitration process.'
Highly Commended – Skadden, Arps, Slate, Meagher & Flom
Skadden is the Highly Commended firm in this category after obtaining the largest-ever investment treaty award against Spain on behalf of two Dutch subsidiaries of renewable energy company NextEra.
The team, led by Skadden's leading duo of David Herlihy and Karyl Nairn, successfully argued Spain's abolition of the feed-in-tariffs and premiums applicable to NextEra's solar plants breached the Energy Charter Treaty and entitled NextEra to damages of €290.6m plus interest and an award of more than $5m for attorneys' fees and arbitration costs. According to the International Centre for Settlement of Investment Disputes, the legal angle taken by Skadden was pivotal to its unanimous finding of liability.
Not only is the award the largest of many claims rendered against Spain in relation to the country's abolition of a long-term premium and tariff system for concentrated solar power, it is thought to be the largest reward ever won in the renewable energy sector globally.
Other nominations
Addleshaw Goddard
Successfully representing the estate of a deceased Thai investor in an investment treaty claim against the Malaysian government relating to an oceanfront property that had been fraudulently taken from her in 1988.
Crowell & Moring
Enforcing the rule of law in Broadsheet v Government of Pakistan, where the tribunal found that the Pakistan government and its anti-corruption agency had wrongfully repudiated an asset recovery agreement with Broadsheet, confirming that the company was entitled to damages.
Gibson, Dunn & Crutcher
Successfully representing Crescent Petroleum and Dana Gas in an LCIA dispute with Hungary's MOL Group over the settlement of another dispute that their joint venture company, Pearl, had with the Kurdistan Regional Government relating to its gas exploitation rights in the country.
Quinn Emanuel Urquhart & Sullivan
Helping Ukraine's second-largest commercial bank, JSC Oschadbank, obtain a landmark $1.3bn award in its investment treaty claim against the Russian Federation relating to the expropriation of the bank's business and assets in Crimea.
Previous Winners / Nominees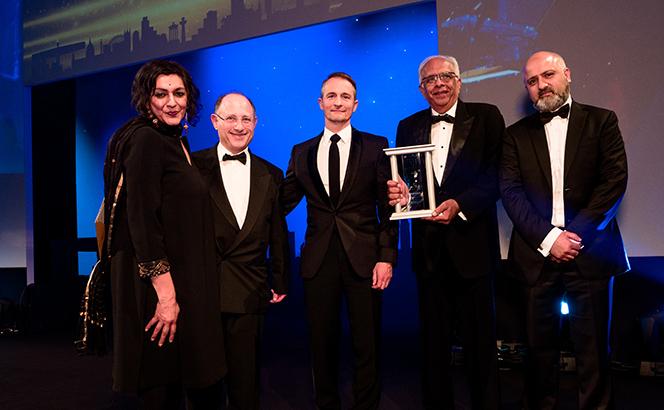 Winner
King & Spalding
Tom Sprange QC
Successfully defended Reliance Industries against a $1.7bn UNCITRAL claim brought by the government of India. The claimants had argued the client had sold gas from blocks adjacent to the one it was licensed to operate, with the outcome of great significance to the oil and gas industry.
Nominee
Skadden, Arps, Slate, Meagher & Flom HIGHLY COMMENDED
David Herlihy, Bruce Macaulay
Successfully defended the Republic of Cyprus against an ICSID claim brought by former shareholders in the country's second-largest bank, Laiki. The claims emanated from the Eurozone crisis where Laiki incurred €3bn in losses from Greece's sovereign debt haircut.
Nominee
Boies Schiller Flexner
Kenneth Beale, Natasha Harrison
Successfully representing Codere in an ICC arbitration over control of the company, following a move by the board of directors to remove two brothers from their posts because of concerns about the company's financial and strategic performance under their leadership.
Nominee
DLA Piper
Kate Cervantes-Knox, Ben Sanderson
Successfully defending the Republic of Kenya in an ICSID arbitration brought by Cortec Mining Kenya and Stirling Capital, relating to the alleged expropriation of a mining licence in Kwale County. The claims were entirely dismissed and Kenya was awarded costs of over $3.5m.
Nominee
Hogan Lovells
Markus Burgstaller
Securing a landmark judgment before the Court of Justice of the European Union for the Slovak Republic. The client challenged a €25m BIT award issued in favour of the Dutch insurer Achmea, stemming from its investment in the Slovak health insurance market.
Nominee
Quinn Emanuel Urquhart & Sullivan
Boris Bronfentrinker, Nick Marsh
The team represented the Cypriot company, Raga Establishment, in an LCIA claim against Ukrainian oligarch Rinat Akhmetov and his company over the non-payment of a $760m debt. The defence and counterclaims were dismissed, and Akhmetov was ordered to pay the full debt plus $60m in interest and costs.
---