Categories
Insurance Team of the Year
The entries have been assessed, the shortlists have been drawn up and our panel of general counsel judges have had their say: we are now delighted to reveal the winner of Insurance Team of the Year for the 2020 Legal Business Awards.
This award recognises the team that has handled innovative work and has attracted the most impressive instructions of 2019 in this constantly changing sector. Judges were looking for one example of standout work – either a transaction, a dispute or even regulatory advice.
Winner – Pinsent Masons
Pinsent Masons is a worthy winner for developing a successful solution to a crucial, post-EU referendum, regulatory challenge faced by the insurance industry.
Since the referendum, regulators have been calling on the insurance industry to devise a strategy to protect life insurance policies sold in other European countries if, as is expected, there is a 'no-deal' Brexit, passporting rights for UK insurers are removed. In response to this, to lawfully service and pay claims post-Brexit, Royal London formed a new Irish subsidiary, Royal London DAC (RLDAC).
The challenge was that there was no legal framework in Ireland for the 'with-profits' products that Royal London needed to transfer. With no legal precedent to follow, the Pinsent Masons team, led by insurance partner Hammad Akhtar and including regulatory partner Iain Sawers and banking partner Nick Gavin-Brown, developed a structure and reinsurance arrangement that gained regulatory approval and enabled with-profits and other business to be transferred to Ireland. Crucially, this included a framework of protection and governance to help ensure that the transferring policyholders did not suffer any material adverse loss of protection. The strategy enabled the transfer of c. £1bn of legacy Irish and German business to RLDAC.
The proposal needed to satisfy the High Court and UK and Irish regulators that it would stand up against any Brexit eventuality, provide the policyholders with appropriate protection and avoid imposing an unacceptable level of risk on RLDAC.
So complex and unprecedented was this structure, that the regulators instructed two top Irish and UK law firms to scrutinise it. Their review confirmed its robustness.
In February 2019, the £1bn asset transfer completed. Not only was this in advance of the 29 March deadline, but it was also ahead of many other major UK life insurers.
As a result, Richard Gordon, deputy group general counsel of Royal London, commented: 'This was an important project for Royal London and for our Irish and German policyholders in particular. The Brexit context and the nature of some of the transferring business meant that there were a number of challenges and complications, but these were overcome and we achieved our desired outcome. The collaboration between the Royal London team and Pinsent Masons contributed hugely to this.'
Highly Commended – Norton Rose Fulbright
A NRF team, led by corporate partner Nicholas Berry, advised Arch, the Lloyd's underwriter, on the launch of BlueVault, an insurance protection solution for secure storage of private keys for digital assets and cryptocurrencies, providing coverage of up to $150m on losses of cryptocurrency and other digital assets in 'cold storage'.
The Blue Vault solution, which was launched publicly in September 2019, was developed in collaboration with broker and risk adviser Marsh. In groundbreaking work for a law firm, NRF provided both legal and technology consulting advice in relation to BlueVault, which included developing a bespoke solution for the relevant risk and the drafting of a new policy form, which – together with various endorsements – had to accommodate the underlying features of the distributed ledger technology that underpins cryptocurrencies and other digital assets.
Other nominations
Clyde & Co
Representing Aviva in launching a private prosecution against a fraudulent public liability claim, believed to be the first such prosecution in the UK by an insurance company against a 'slip-and-trip' fraudster.
Freshfields Bruckhaus Deringer
Advising Equitable Life Assurance Society on its extensive restructuring and subsequent sale of the entire business to Utmost Life and Pensions, which combined a solvent scheme of arrangement and a parallel insurance business transfer.
Marsh & McLennan
The Marsh legal team took a lead role in making sure the company's landmark £4.9bn takeover of Jardine Lloyd Thompson Group completed on schedule, in what was the largest acquisition in its 148-year history.
Sullivan & Cromwell
Advising client Assicurazioni Generali on its €600m acquisition of Seguradoras Unidas and its associated service company, AdvanceCare, from companies that were majority owned by Apollo Global Management.
Previous Winners / Nominees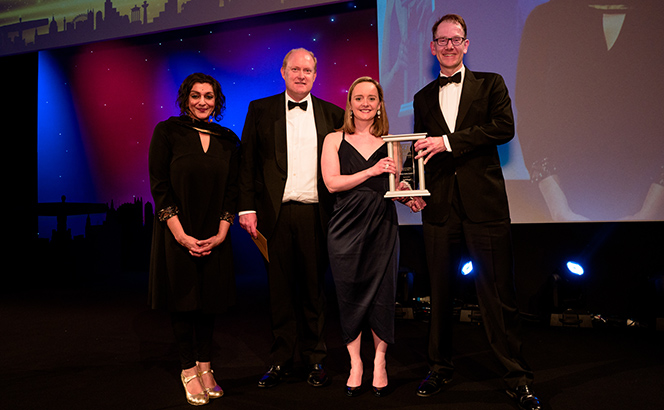 Winner
Herbert Smith Freehills
Alex Oddy
Representing Single Buoy Moorings in a dispute over the decommissioned Yme platform in the Norwegian North Sea, the largest insurance case in the English courts in a decade. HSF recovered approximately $390m for clients SBM.
Nominee
Stephenson Harwood HIGHLY COMMENDED
Simon Moore
Securing a Supreme Court victory on behalf of the insurers in the headline B Atlantic case, a long-running dispute over a marine war risks insurance policy. The victory brings greater certainty to the insurance market that exclusion clauses will be fairly applied and that drug smuggling is not a war risk.
Nominee
AIG/Freshfields Bruckhaus Deringer
Chris Newby, George Swan
In-house legal team and external adviser combined to investigate alternative structures for AIG to service its policyholders following Brexit and to ensure that its London-based European operation was not stranded by the loss of passporting. The new structure involved the first combined Part VII insurance business transfer and outbound EU cross-border merger in legal history.
Nominee
CMS Cameron McKenna Nabarro Olswang
Simon Kilgour
Advising NORECO on its $1.9bn acquisition of Shell's interests in the Danish Underground Consortium, CMS explored the use of surety and credit insurance to deal with exposure to catastrophic events and the risks associated with being part of the joint venture. The eventual bespoke insurance product enabled the transaction to move forward.
Nominee
DAC Beachcroft
Jade Kowalski
Advising Lloyds Market Association and the Association of British Insurers on the drafting, negotiating and finalising of an addition to the Data Protection Bill, enabling the insurance industry to process special categories of personal data and information relating to criminal convictions, while complying with GDPR.
Nominee
Slaughter and May
Jonathan Marks
Advising Standard Life Aberdeen on the £3.24bn sale of its UK and European insurance business to Phoenix Group – the largest insurance deal in the UK in 2018. The transaction was challenging due to preparations for Brexit, an FCA investigation into sales of enhanced annuities and Lloyds Banking Group reportedly ending its investment management arrangements with Standard Life.
---