Categories
In-House Team of the Year
The entries were reviewed and our panel of general counsel judges delivered their verdicts: we are now delighted to reveal the winner of In-House Team of the Year for the 2020 Legal Business Awards.
Tying in with our annual GC Powerlist: UK report and event, this award is given to the in-house team that can demonstrate outstanding performance on behalf of the company, either through innovative use of its own resources or effective management of external law firms.
Winner: Bank of England
Untangling decades of regulatory alignment with continental Europe was always going to be a tough task, and on the front lines has been the Bank of England (BoE), with the UK central bank legal team's workload dominated by Brexit. But under the leadership of general counsel (GC) Sonya Branch, the BoE's legal function has risen to the occasion, impressing this year's judges to win In-House Team of the Year.
A major part of the 150-strong legal directorate has been involved since the mid-2016 referendum in reviewing about 10,000 pages of legislation and tracking 39 statutory instruments, to which it contributed drafting. That's 6,000 pages of binding technical standards and 6,000 rules, all to make sure the UK financial services sector had a regulatory framework fit for purpose on the point of exit.
Brexit has made it an interesting time for the in-house function at the BoE. The central bank is navigating the tricky regulatory terrain while also balancing the commercial needs of financial traders and banks with the BoE's role as custodian of market ethics and financial stability. Striking that balance has required the judgement and skillset of Branch as well as transformation at the heart of the bank's legal function.
Under Branch's leadership, headcount has almost doubled while the structure of the legal function has been streamlined from nine legal units to four alongside an EU withdrawal division and appointing of two deputy GCs. Permanent paralegals have also been appointed for the first time, creating a structure whereby staff can join as a paralegal and move all the way up to GC. Meanwhile the first three women have been appointed under the Women Returners scheme, which places people in work after extended career breaks, making BoE a worthy winner of this year's award.
Highly commended: Provident Financial

A turbulent 2019 saw Provident Financial GC Charlotte Davies' team thrust into the spotlight in the ultimately successful fight against a hostile takeover bid by Non-Standard Finance. The bid fell through following a lack of support from both NSF and Provident shareholders, as well as regulator intervention.
Early on Davies and her team saw the bid was not the right deal for the company, in particular being concerned about the impact the bid could have on Provident's customers and employees. Davies tenaciously supported the board, the CEO and the bid defence team in fighting the takeover.
Separately, Davies has also spent the last 10 months building the company's ethics committee, including a whistleblower process, while also rolling out a cultural blueprint that sets out the behaviour and purpose of the group in relation to customers.
Other nominations
Oodle
This car finance company has an accomplished legal team which acts as trusted adviser to senior management and the boards of directors and recently worked on its first public securitisation. The team has won praise for being instrumental in assisting the business amid a fast pace of change while navigating the ever-changing complex legal landscape in a regulated environment.
Revolut
The in-house legal team at fintech unicorn Revolut has rapidly grown from one lawyer in 2017 to more than 50, led by head of legal Tom Hambrett. Growth has followed the business, which in 2018 raised $250m at a $1.7bn valuation, with Revolut wanting at least one legal counsel and regulatory compliance manager in each of the markets it has launched in.
Three
The past 18 months have been some of most strategically important in Three's history, and GC Stephen Lerner's team has been at the forefront of it. The team played a central role in making the roll out of Three's 5G home broadband network and purchase of 100MHz of contiguous spectrum a success, overcoming some serious regulatory hurdles in the process.
Previous Winners / Nominees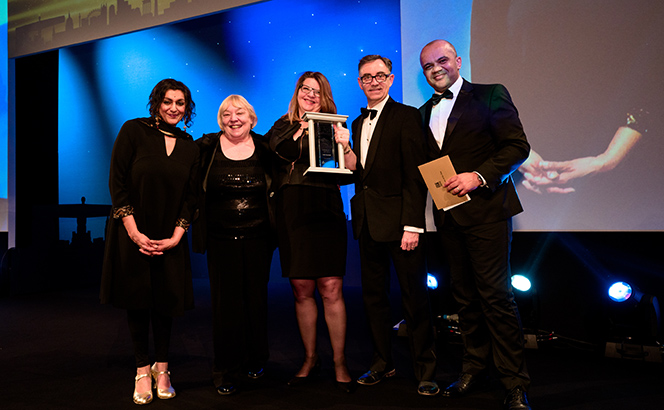 Winner
Network Rail
Cathy Crick
General counsel (property) Crick has overseen her team's work on Project Condor, which completed towards the end of 2018. This landmark sale of Network Rail's commercial estate portfolio included over 5,200 units across England and Wales to Blackstone and Telereal Trillium, and was one of the largest real estate deals ever in the UK, raising £1.46bn to invest in the future of UK's railways. As such, an in-house team of the highest calibre was required.
Nominee
AIG
Chris Newby
Three major projects dominated the workload of Newby's 140-strong legal team throughout 2018. There was GDPR and an European Union Insurance Distribution Directive to deal with, as well as a headline Brexit transaction the insurer announced in April 2018: splitting its European business between two new entities in Luxembourg and the UK to ensure little disruption to its coverage when Britain exits the EU.
Nominee
Barclays
Bob Hoyt
The in-house legal department of more than 750 staff at global banking giant Barclays, led by global GC Bob Hoyt, completed a radical overhaul in its management of external law firms ahead of a long-planned move away from formal panel arrangements by 2021. The new model is touted as replacing resource-intensive adviser reviews with an ongoing relationship management system. In-house legal department savings generated are believed to run into the tens of millions of pounds as a result of the changes.
Nominee
London Stock Exchange
Catherine Johnson
Thanks to general counsel Catherine Johnson's managed legal service initiative, where entire high-volume aspects of the legal function are outsourced to Lawyers On Demand and Axiom, the in-house team at LSE exclusively consists of experienced lawyers who add value. Encouraged to engage at board level and to run transactions from the very beginning while not being siloed into one geography or practice area, job satisfaction within the team is very high.
Nominee
Worldpay
Ruwan de Soyza
The in-house legal team at Worldpay has drawn praise for its perseverance in the face of a highly stressful year. After the world's biggest payment processing merger with Vantiv in 2018, the team has had to contend with significant movement of people, staff and products, as well as the not insignificant task of Brexit planning and an exponential rise in regulation. Not dropping any balls throughout the process is a significant achievement for a team launched from scratch six years ago.
---