Categories
ESG Programme of the Year
After reviewing dozens of highly impressive entries, we are now delighted to reveal the winner of CSR Programme of the Year at the 2020 Legal Business Awards.
In recognition of either a single law firm, in-house team or chambers, or even a wider association, this award is given to those in the industry that have made the strongest overall contribution to corporate social responsibility. Reference can be made to a range of areas, including pro bono and community activities, environmental and workplace initiatives and responsible client selection.
Winner – Mayer Brown
Mayer Brown wins plaudits for working with Zacchaeus 2000 Trust, the anti-poverty charity, to deliver its Tribunal Project to combat the injustices in the disability welfare system. To date, the firm has taken 16 cases to tribunal; successfully accessing close to £200,000 in financial benefits for Z2K clients.
A narrowing in 2013 of access to legal aid, including in welfare benefits, together with changes to the welfare system in 2012, disproportionately affected the disabled and long-term sick. Inadequate access to legal advice for the vulnerable have been a growing concern for Z2K, which offers support and advice to those entitled to means-tested benefits affected by unfairness in social security or housing.
Hundreds of thousands of people with severe medical conditions and disabilities have had their benefits unjustly stopped by the Department for Work and Pensions since the reform and around 40% of claimants for Employment and Support Allowance and Personal Independence Payments (PIP) have been wrongly rejected, resulting in many being forced into poverty.
Since October 2018, a team of 30 Mayer Brown lawyers led by London head of CSR, Heidi Newbigging, have worked with Z2K to deliver its Tribunal Project on a pro bono basis. Lawyers receive training from Z2K on how to run a case at tribunal, with the project open to participants at all levels, from partner to legal apprentice. Lawyers meet with clients, prepare their submission and attend the tribunal hearing with them, providing much-needed support through a lengthy and complex process.
For example, Yousef (not his real name), a 49-year-old man living alone and receiving psychological treatment following his torture in prison in the Democratic Republic of Congo, has several medical conditions and takes medication that causes side effects. His case was referred to Z2K as he had been awarded no points during his assessment for daily living and mobility for PIP. With support from Mayer Brown, he won his appeal.
Yousef was awarded PIP daily living at the standard rate of £58.70 per week and received a backdated payment of just over £4,000.  In a testimonial, Yousef said: 'Tribunals are so overwhelming it is great to have support of people who know what the system needs so you do not feel alone.'
Highly Commended – Dentons
The world's largest firm by headcount contributes 15,900 CSR hours over multiple programmes. One highlight is its collaboration with NatWest for The National Centre for Domestic Violence, using a unique structure that allows clients to become Dentons consultants for the purposes of pro bono work.
Dentons has worked with client NatWest Legal over the last two years to provide pro bono support to the NCDV, a nationwide not-for-profit organisation which provides free advice to victims of domestic violence ineligible for legal aid. The unique structure helps victims without having to refer them to other organisations, expediting the legal service.
The programme has to date supported 94 applicants in need of urgent assistance by obtaining emergency protection from the court. One senior associate obtained a non-molestation order having attended court with his 16-year-old client. The court granted the order without the need for a return hearing, which is extremely rare, and a great result for a young, vulnerable person.
Other nominations
DAC Beachcroft
Achievements in the past year include a 50% increase in employee engagement in CSR initiatives that include the creation of the Helpforce volunteering programme in support of a major client and its first collaborative CSR programme launched with another key client, Aviva.
Latham & Watkins
An impressive showing with 93% of partners, counsel, and associates globally worked on pro bono matters in 2018. In the past year, Latham lawyers in London opened more than 95 new matters and donated 14,000 hours advocating for disadvantaged, marginalised and vulnerable people.
Paul Hastings
As sole legal counsel to Clearly Social Angels – the UK's leading network of high-net-worth individuals and families dedicated to impact investment into businesses that create positive social and environmental change – the firm provides legal training to the individual angel investors, answering questions from CSA regarding structuring the investments, as well as ad hoc legal support.
Reed Smith
Achievements include collaborative work with Kids in Need of Defense UK, assisting vulnerable clients, children and their families by regularising their immigration status in the UK. The firm can point to a 100% success rate and over 4,000 pro bono hours committed in two years.
Previous Winners / Nominees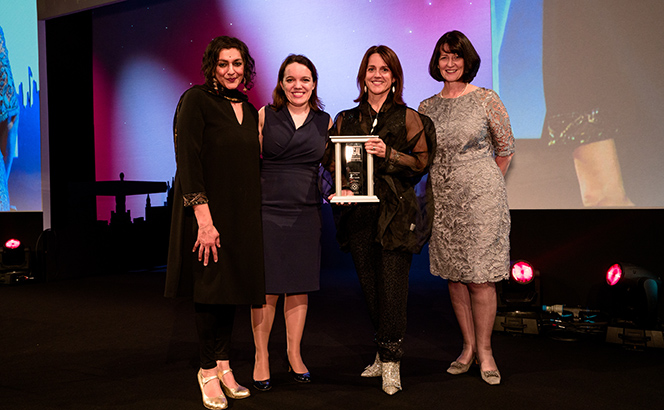 Winner
Hogan Lovells
Yasmin Waljee
In partnership with social enterprise Barefoot, this CSR programme teaches illiterate women to become solar engineers – it aims to bring clean, renewable light to 200,000 people in 35 countries through 'solar mamas'. Involving 99 lawyers, plus 125 volunteers participating in workshops, this is a targeted and quantifiable project with £320,000 raised in financial support.
Nominee
Royal Mail HIGHLY COMMENDED
Daniel Quy
A busy CSR programme run by the legal team combats social exclusion through a wide range of charities, organisations and causes across the UK. These include a range of initiatives for young people, the homeless and other vulnerable groups, involving almost all members of the legal team based in London, Sheffield and Wolverhampton.
Nominee
Eversheds Sutherland
Lee Ranson
The firm's commitment to its LGBT+ network, Perspective, means it has more than 500 members and 200 followers of its @ES_Perspective Twitter account. A Transitioning at Work policy and toolkit was launched in August 2018 to create a safe and productive workplace for all employees, including trans and intersex people and those identifying as non-binary.
Nominee
Herbert Smith Freehills
Andrew Lidbetter
A suite of important pro bono work led by the administrative law team in the last 12 months includes high-profile strategic interventions in the courts for charity clients – specifically the Child Poverty Action Group in the Supreme Court and
The Centre for Advice on Individual Rights in Europe in the Supreme Court and the Court of Justice of the European Union.
Nominee
Ramsdens
Paul Joyce
Not a Big Law brand but a Yorkshire firm that makes a real contribution to its local community: each member of staff is entitled to one day volunteering every financial year. In 2017/18, 70% of staff took part in a diverse range of charity and community activities, volunteering over 500 hours, sponsoring specific causes that staff are personally connected with and raised over £18,000 for 25 charities.
Nominee
Travers Smith
Daniel Gerring, Donald Lowe
Refugees at Home connects those with a spare room in their home with asylum seekers and refugees in need of accommodation. Travers Smith has supported Refugees at Home from the outset with a team of lawyers advising, on a pro bono basis, setting up its charitable structure, drafting forms, policies and other documents, assisting with web pages and communications, and hosting and attending board meetings.
---