Categories
Corporate Team of the Year
The entries have been assessed, the shortlists have been drawn up and our panel of general counsel judges have had their say: we are now delighted to reveal the winner of Corporate Team of the Year for the 2020 Legal Business Awards.
The successful firm in this category demonstrated excellence during 2019 in M&A or corporate work, including disposals, joint ventures and equity capital markets listings. It was not so much the value of the deal that impressed judges as much as evidence of outstanding transactional advice and commitment to the client in the context of one exceptional piece of work.
Winner – Clifford Chance
Fortitude was the order of the day for Clifford Chance (CC)'s City corporate team as it defied the odds by successfully defending Provident Financial against an unsolicited offer by Non-Standard Finance (NSF), despite its shareholders holding more than 50% of Provident's shares.
The 14-week defence was prompted by 'an old school hostile approach' in the form of a Friday morning voicemail to Provident's chairman minutes before the surprise bid was launched.
CC rallied the troops across public M&A, finance, debt capital markets, antitrust, employment, incentives, pensions, forensic accountants and litigation. Twists and turns saw firm and client pick apart NSF's strategy, developing and road-testing an aggressive Regulatory News Service campaign and engaging with stakeholders, including Woodford and Invesco, both of which supported the takeover. The team launched a comprehensive defence, anticipating and handling a litany of tricky code points and managing a white knight process.
NSF then announced it had formal acceptances of more than 50% enabling it to declare the offer unconditional. However, Provident persevered with a full-on counter-attack. Analysis of NSF's business and accounts revealed some dividends and buy-backs were unlawful, which Provident announced to the market, undermining its attacker's management.
Provident persuaded the Takeover Panel to extend the offer timetable to allow the Competition and Markets Authority (CMA) to complete its review and determine whether a Phase 2 referral was required. Without the extension, Provident shareholders risked the takeover closing and Provident and NSF businesses being held separate pending a CMA decision.
NSF set a drop-dead date of 5 June and Provident continued analysing NSF's regulatory capital position and undermining it with announcements and engaging with regulators. The tide started to turn as institutional shareholders made the unusual move of publicising their opposition to the takeover.
Provident showed that NSF could be left with a significant non-assenting minority and the combined Provident-NSF group would be undercapitalised at closing. On the eve of the drop-dead date, NSF announced that the takeover offer would lapse as the regulator had not concluded its change of control approval.
Against what has been called the biggest hostile takeover since the financial crisis, the defence may go down in history as one of the best ever.
Highly Commended – Gibson, Dunn & Crutcher
Gibson, Dunn & Crutcher's City team's advising UK pharmaceuticals company Amryt Pharma on its highly complex acquisition of Boston-based Aegerion Pharmaceuticals out of Chapter 11 within a very tight timeframe.
The team, led by Nigel Stacey and Sian Williams, was mandated in March 2019 and the acquisition was announced just two months later. The transaction involved US Chapter 11 proceedings, a court-sanctioned scheme of arrangement to create a new holding company of the Amryt group and took the form of a reverse takeover under the AIM and Euronext Dublin rules. It required a UK Takeover Code Rule 9 whitewash, given the level of Aegerion creditor control over Amryt on completion of the deal. Aegerion emerged from bankruptcy in October 2019 at which stage the acquisition was completed.
Other nominations
Herbert Smith Freehills
Representing Virgin Atlantic on its much-publicised takeover of Flybe, the UK's largest regional airliner at the time, as part of the Connect consortium with Cyrus Capital Partners and Stobart Group.
Mayer Brown
The firm's London office represented Canada-based FTSE 250 company Entertainment One on its £3.3bn sale to the US toy maker Hasbro, a cross-border deal that encountered a number of hurdles.
McDermott Will & Emery
Advising Praxair on the divestment of certain North American and South American assets, which were ultimately acquired by Messer and CVC Capital Partners for $3.6bn, allowing Praxair and Linde to consummate their all-share merger of equals.
White & Case
Representing Energean Oil & Gas on the $750m acquisition of the upstream exploration and production assets of Italian utilities company Edison, Energean's first major acquisition since being listed in London in 2018.
Previous Winners / Nominees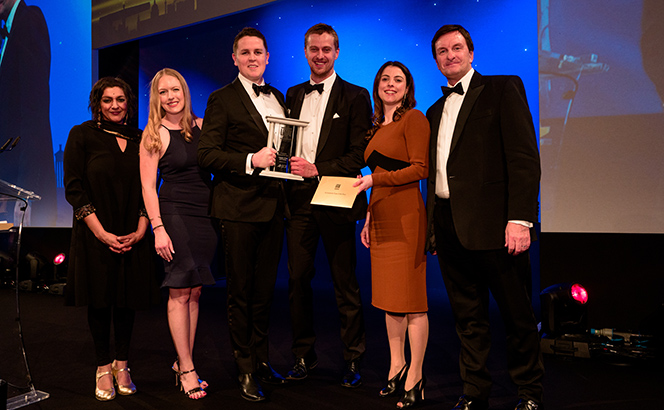 Winner
Gibson, Dunn & Crutcher
Tony Downes, Nigel Stacey
Advising William Hill on its entry into a US partnership with Eldorado Resorts for the operation of sports betting at all Eldorado licensed-casinos throughout the US. This was a groundbreaking and high-pressure transaction for William Hill entering into newly liberalised, highly regulated markets.
Nominee
Herbert Smith Freehills HIGHLY COMMENDED
Mark Bardell, Stephen Wilkinson
Advising Sky on the competitive takeover process that saw Comcast acquire the company for £30bn. This followed a rarely seen competitive auction between rival bidders Comcast and 21st Century Fox, which was overseen by the Takeover Panel, while the bidding for Fox assets in the US added an extra layer of complexity.
Nominee
Allen & Overy
George Knighton
Advising Virgin Money on its £1.7bn acquisition by CYBG, the owner of Clydesdale Bank and Yorkshire Bank, creating the UK's sixth-largest bank, and the first true national competitor of scale to the large incumbent banks.
Nominee
Baker McKenzie
Helen Bradley, Melanie Howard
Advising Alawwal Bank on its $5bn merger with the Saudi British Bank. This share-for-share deal is one of the largest mergers between two listed companies in the Middle East, and it resulted in the creation of Saudi Arabia's third largest bank, with assets of around $70bn.
Nominee
Clifford Chance
David Pudge
Advising CYBG, the owner of Clydesdale Bank and Yorkshire Bank, on the £1.7bn acquisition of the LSE-listed Virgin Money. The all-share takeover is also the largest UK banking deal of the past decade, and involved an exclusive and perpetual brand licence agreement with Virgin Group Holdings, itself a major shareholder in Virgin Money, to continue using the Virgin Money brand.
Nominee
Dechert
John Markland
Advising South Korea's SK hynix, the single largest investor in the $18bn takeover of Toshiba's memory chip unit business. A novel structure was required as for regulatory reasons SK hynix had to accept restrictions on equity ownership for ten years and be firewalled from accessing proprietary Toshiba information.
Nominee
King & Spalding
William Charnley
Advising Life Company Consolidation Group on its landmark £1.8bn acquisition of Equitable Life, the world's oldest mutual insurer. The deal, which involved transferring 400,000 policyholders to LCCG's subsidiary, Reliance Life, raised a host of complex corporate, insurance and regulatory issues.
---