Categories
Competition Team of the Year
The entries were reviewed and our panel of general counsel judges delivered their verdicts: we are now delighted to reveal the winner of Competition Team of the Year for the 2020 Legal Business Awards.
This award is given to the team based in either the UK or Brussels that can demonstrate crucial antitrust advice on a specific case, transaction or investigation, or was instrumental in steering a client through a regulatory minefield.
Winner – CMS
Cox Automotive and Auto Trader agreed a joint venture (JV) to create Dealer Auction, a business-to-business online auction trading platform for the wholesale remarketing of vehicles.
Unusually, and recognising that the Competition and Markets Authority (CMA) merger control process was a central hurdle, the CMS competition team, led by co-head of competition Brian Sher, was instructed as sole counsel to lead that process for both JV parties.
The proposed JV coincided with a core focus on digital mergers by the CMA, against a backdrop of ongoing worldwide reviews into the application of competition law in the digital sector and a feeling the CMA had not done enough to prevent the adverse competition effects of increasing concentration in digital. This, combined with the fact that the JV would combine two platforms with sell-side market shares between 60 and 70% and limited direct competitors, led to a CMA theory of harm that the JV would eliminate a key 'potential competitor' to Cox, and that existing competitors were insufficient to constrain it from exercising market power. The CMA seemed intent on making this the first 'potential competition' case to go to a potentially punishing Phase Two review.
However, CMS managed to turn the CMA around during the Phase One process by demonstrating that the market shares over-stated the market power the JV would have given the close interaction between physical and digital sales; and the evidence that the conversion rate of Auto Trader's listings site was likely to be lower than that of Cox's digital auction platform.
CMS achieved an unexpectedly early victory, and this allowed integration to begin on time, saving the business risks that can come with a protracted competition delay. Such an effective handling of the competition process led Martin Forbes, chief executive officer of Cox Automotive, to say: 'I was hugely impressed by the quality of thought, commitment, passion and work ethic with which CMS navigated us through this challenging CMA process. Simply put, they were outstanding. It really does feel like we snatched victory from the jaws of defeat and it feels good. Although absolutely the right decision by the CMA, I still can't quite believe we managed to get this approved at Phase One.'
Highly Commended – Sidley Austin
Sidley's London office, led by partner Marie Manley, was co-lead counsel to French pharmaceutical company Les Laboratoires Servier in a landmark case before the EU General Court against a European Commission decision alleging a breach of European competition rules for entering into patent settlement agreements with six generic companies.
In 2014, the European Commission imposed fines totalling €427.7m on Servier and the manufacturers, leading to a landmark test case in Europe. In December 2018 the General Court partially quashed the Commission's ruling that Servier had engaged in anticompetitive conduct in the patent settlement agreements. Crucially, it annulled not only the decision on the anticompetitive nature of the agreement but also the conclusion that Servier was in a dominant position, holding that the relevant market had been too narrowly defined. As a result, the fine imposed on Servier was reduced by one-third – a significant victory for the innovative pharmaceutical industry. It was also the first time since 1973 that the General Court annulled a decision by the Commission on abuse of dominance based on an incorrect definition of the relevant market.
Other nominations
Ashurst/Gowling WLG
The two firms successfully collaborated in representing Economy Energy Trading and E (Gas and Electricity) to achieve a 75% reduction in combined financial penalties imposed by Ofgem for anti-competitive agreements in the prepayment meter segment.
Bristows
Successfully challenged the Secretary of State for Culture, Media and Sport over a public interest intervention notice it had issued, raising concerns about investments in The Independent and The Evening Standard by Saudi Arabian investors.
Morgan, Lewis & Bockius
Advising Connect Airways and Cyrus Capital Partners on their acquisition of Flybe Group, securing a rare derogation decision from the European Commission to allow the clients to complete the transaction prior to official merger clearance.
Slaughter and May
Overcoming significant opposition to Vodafone's acquisition of Liberty Global's telecoms businesses in Germany, the Czech Republic, Hungary and Romania. The deal was referred for Phase 2 investigation, but was cleared to give Vodafone the largest next-generation network in Europe.
Willkie Farr & Gallagher
Successfully representing Expedia in the Competition and Markets Authority's 18-month investigation into online hotel booking sites in the UK, specifically into the display of ranking results and the comparison of offers.
Previous Winners / Nominees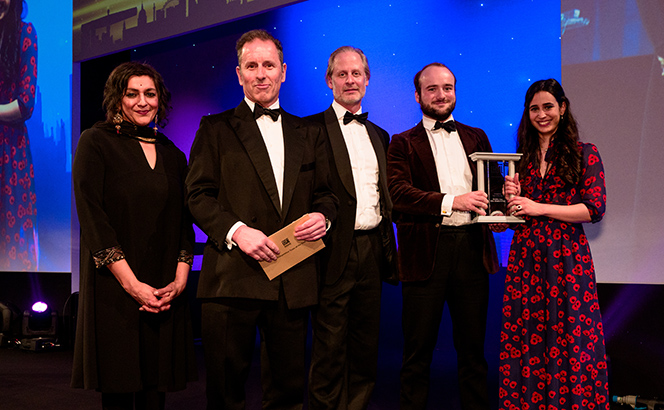 Winner
Skadden, Arps, Slate, Meagher & Flom
Bill Batchelor
Gaining success for Dyson in its four-year battle in the General Court of the European Union over how vacuum cleaners' efficiency is labelled. The court ruled that efficiency ratings unfairly favoured Dyson's rivals; the company had argued that models using bags lost power and were less efficient as they filled.
Nominee
Ashurst HIGHLY COMMENDED
Nigel Parr
Advising Arla Foods on its acquisition of Yeo Valley Dairies' organic milk and butter business, transforming the organic UK dairy market. The acquisition achieved an unconditional Phase I clearance from the CMA, despite it finding that the two businesses had a high combined market share in key business areas.
Nominee
Freshfields Bruckhaus Deringer
Deirdre Trapp
Advising SEE on the spin-off of its retail energy business and its merger with npower's retail division, creating the UK's largest retail electricity supplier and second-largest gas and dual-fuel provider. Despite the former head of Ofgem, among others, calling for extensive remedies, the deal was approved without conditions.
Nominee
Hausfeld
Anna Morfey
Representing Groupe PSA, the French manufacturer of Peugeot, Citroën, DS, Opel and Vauxhall brands in a follow-on damages claim against leading automotive bearing manufacturers. In Spring 2018, the PSA settled the last of its claims against five bearing manufacturers.
Nominee
Ropes & Gray
Ruchit Patel
A London team led on providing competition advice to trophy client Bain Capital on its $18bn acquisition, as part of a consortium, of Toshiba. The team managed to obtain merger approvals from all key competition agencies before a devastating credit event for Toshiba.
Nominee
Sullivan & Cromwell
Juan Rodriguez
Advising Bayer on its landmark $6bn acquisition of Monsanto, involving merger filings and reviews in over 30 jurisdictions. Extensive remedies were required to get the deal through and the firm played an integral role in helping Bayer to divest of some $9bn assets to BASF.
---