Categories
Commercial Litigation Team of the Year
After much back-and-forth between the judges in a keenly contested category, we are now delighted to reveal the winner of Commercial Litigation Team of the Year for the 2020 Legal Business Awards.
This category identifies one outstanding piece of commercial litigation work undertaken by the winning team. The key requirement is not necessarily a substantial award of damages but rather an impressive result for the client, which could include an important out-of-court settlement or avoiding a costly appeals process.
Winner – Dentons
The next time you are withdrawing cash from an ATM, you may have global giant Dentons to thank. In 2018, the firm's real estate litigation division secured victory for supermarket chain Sainsbury's and the Co-Operative Group in their Court of Appeal dispute against the Valuation Office Agency, in a case which could have seen thousands of stores lose ATMs.
At stake was the retailers' ATM sites being treated as separate units for the purpose of business rates. However, with Dentons' UK head of real estate litigation Bryan Johnston spearheading the claim, the Court of Appeal rejected a decision made by the lower tribunal; that retailers only controlled ATM sites facing into the store, not those facing outwards. The appeal also successfully argued that the spaces occupied by ATMs lack sufficient definition and permanence to be considered a property unit for rating purposes.
Such was the robustness of the firm's representation of Sainsbury's and the manner of the resulting victory, The Co-Operative Group instructed Dentons on the same appeal. Had the case gone the other way, liability for retailers would have meant a severe financial impact during a torrid time for the UK high street. Moreover, photo booths, vending machines, and children's rides could have been next in the firing line. Dentons' success now means its clients are owed rebates worth billions.
The case now sets a vital precedent, having been showcased at the Royal Institution of Chartered Surveyors' annual rating conference due to its importance in determining the meaning of a piece of property in a ratings context.
Throughout the matter, Dentons took the lead in liaising with other claimants in order to agree test-case parameters to avoid litigating many thousands of different valuation appeals. Further consistency was achieved by ensuring junior barristers were the same between clients, while different QCs were retained. Dentons also helped manage their clients' spend by avoiding duplication of representation and allowing one client to benefit from the experience and knowledge gained from working with the other. By being in the trenches for both of them, each client saved hefty sums.
Highly Commended – Allen & Overy
A close contender was Allen & Overy (A&O), which advised Lloyds Banking Group on a landmark pensions case concerning GMP equalisation.
The matter concerned whether pension schemes have to equalise benefits for the effects of unequal guaranteed minimum pensions. All in, the industry-wide implications are estimated to be worth up to £20bn and affect millions of members in thousands of schemes.
A&O fielded partners Neil Bowden and Jane Higgins on the matter, which also saw the firm develop a matrix system to ensure seamless co-ordination with other stakeholders in the case. As a result of A&O's advice, the industry now has clarity over a perennial issue in the pensions sector: scheme benefits in excess of GMP must be adjusted so that the total benefits received from male and female members with equivalent age, service, and earnings are equal.
Other nominations
Baker Botts
Securing a Court of Appeal victory for Marathon Oil in a high-profile dispute concerning an operating agreement for a large oil field in the North Sea.
Boies Schiller Flexner
Represented Apple on the UK aspects of its industry-defining global dispute with Qualcomm over chipsets and IP licences central to Apple products, which reached global settlement while UK proceedings were underway.
Cooley
Achieving a favourable settlement for client Allergy Therapeutics in its High Court dispute with Inflamax Research concerning a clinical study in the US for an allergy vaccine produced by the firm's client.
RPC
Achieving an appeal victory for executive recruitment firm Egon Zehnder in the Supreme Court in what was the first employment competition case to reach the UK's highest court in 100 years.
Watson Farley & Williams
Advising Bester Generacion UK in a groundbreaking Technology and Construction Court decision where a fraud defence was successfully deployed for the first time to defeat an application for summary judgment of an adjudication award.
Previous Winners / Nominees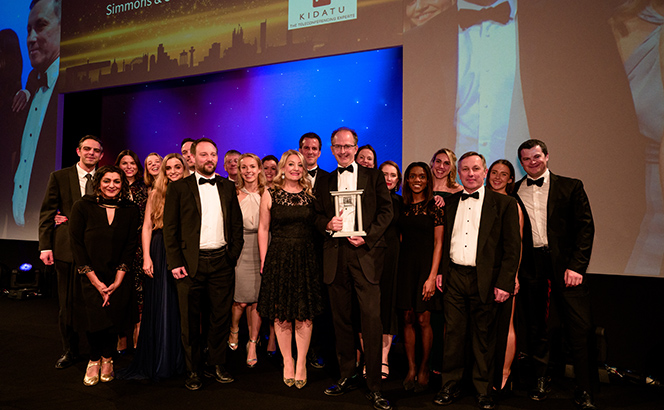 Winner
Simmons & Simmons/Travers Smith
Ian Hammond, Stephen Paget-Brown
Successfully defending Grant Thornton and Kaupthing against claims brought by the Tchenguiz brothers. The high-profile litigation, concerning alleged professional misconduct during the SFO's investigation into the collapse of Kaupthing and the brothers' 2011 arrest, was abandoned three days into what was set to be a 12-week trial.
Nominee
Hogan Lovells HIGHLY COMMENDED
Michael Roberts
Successfully representing ENRC in its appeal against the Serious Fraud Office over legal professional privilege. The SFO had brought civil proceedings to enforce ENRC to share the findings of an internal enquiry, despite claims of legal privilege, and ENRC's victory will have a major impact on how companies prepare internal investigations in future.
Nominee
Charles Russell Speechlys
Stewart Hey
Successfully representing the joint liquidators of six Cayman Islands-registered companies of Awal Bank against claims brought Ahmad Hamad Al-Gosaibi & Brothers (AHAB). This followed the collapse of the AHAB and the Saad Group and formed a crucial part of one of the world's largest-ever fraud trials.
Nominee
Clyde & Co/Fountain Court Chambers/Leigh Day
Fergal Cathie, Patricia Robertson QC, Frances Swaine
Successfully defending the longest-running disciplinary prosecution brought by the SRA, involving allegations of professional misconduct against Leigh Day and three of its lawyers in representing Iraqi individuals alleging torture and unlawful killing by the British Army. Following a seven-week trial under intense press scrutiny, the prosecution was defeated, as was its subsequent appeal.
Nominee
Gowling WLG
Andrew Smith
Successfully representing the Candy brothers in their high-profile defence of a £132m claim brought by former business associate Mark Holyoake. In the midst of the media storm, the legal team managed to prove the claimant's lack of credibility and all of the claims, and subsequent appeal, were eventually dismissed.
Nominee
RPC
Tom Hibbert, Andy McGregor
Representing Bank of St Petersburg in its dispute with the oligarch Vitaly Arkhangelsky concerning defaulted loans to one of his companies, Oslo Marine Group, which he had guaranteed. After a two-year wait for judgment, the bank won on all counts, including Arkhangelsky's counterclaim.
---