Categories
Chambers of the Year
The entries were reviewed and our panel of general counsel judges delivered their verdicts: we are now delighted to reveal the winner of Chambers of the Year for the 2020 Legal Business Awards.
This award highlights the UK set that stood out for its impressive performance over 2019. Key factors considered included evidence of an outstanding track record in winning high-end disputes, innovation, effective leadership, high-quality clerking, impressive financial performance and increased market share.
Winner – Essex Court Chambers
Though already a household name in commercial litigation and international arbitration circles, even by its own high standards 2019 was a good year for Essex Court Chambers. Several new junior litigators, continued revenue growth, and major judicial appointments all made for an impressive showing.
Responding to market demand, Essex Court hired a series of juniors, adding commercial chancery and civil fraud expertise with the hires of Tim Akkouh from Erskine Chambers, Louise Hutton from Maitland Chambers, and Ruth den Besten from Serle Court. In addition, insurance and shipping specialist David Walsh moved to Essex Court from Quadrant Chambers.
Essex Court also secured the services of Dapo Akande, a professor of public international law in the Blavatnik School of Government at Oxford University. Akande is widely considered one of the world's leading public international lawyers.
Meanwhile, Essex Court was also making inroads overseas, launching Essex Court Chambers Duxton (Singapore Group Practice). The outpost is the first of its kind in the region to operate on a pure chambers model, and focuses on commercial, corporate and financial litigation, arbitration, public law and public international law.
Moreover, Essex Court achieved a series of prestigious judicial appointments last year – a reflection of the chambers' standing and brand. In November 2019, Stephen Houseman QC was appointed a Deputy High Court Judge, while in October 2019, Martin Griffiths QC was appointed as Justice of the High Court.
Such appointments are unsurprising given the chambers' track record of acting on high-profile cases, including: the Grenfell Tower Inquiry, National Bank Trust v Yurov and others, Avonwick Holdings Ltd v Sergiy Taruta and others, and PJSC Tatneft v Bogolyubov.
To round off an impressive year, Essex Court also grew its turnover substantially; revenues rose from £78.6m in 2017/18 to £86.7m in 2018/19, an increase of 10%.
Highly Commended – 6KBW College Hill
A close contender for this year's award was 6KBW College Hill, with chambers continuing to be at the forefront of significant crime, corporate crime, fraud, extradition, and public law cases.
Two barristers took silk in 2019, while over the last three years the number of cases 6KBW has been instructed on has increased by around 20%. This translates into a robust financial performance, with revenues up 12% over the last three years.
Says one client: '6KBW are my chambers of choice. They have an excellent range of counsel at all levels of call and all counsel I have instructed have had…excellent technical knowledge and a pragmatic and strategic approach. The clerking team are extremely responsive and provide sensible options in terms of counsel and costs. In court, counsel have excellent advocacy skills coupled with a forensic eye for detail.'
Other nominations
4 New Square
Historically known for its professional negligence work, 4 New Square has successfully repositioned itself in commercial litigation and international arbitration work – where turnover has increased by 30% in the past year – largely through high-quality work balanced by a focus on innovation, client care and wellbeing.
Crown Office Chambers
This insurance industry-focused set has ably demonstrated its expertise in servicing a demanding client base, both through its caseload and in detailing innovation in its service delivery. The work of 12 members in handling conflicting demands from numerous clients in relation to the Grenfell inquiry stands out.
Keating Chambers
An impressive track record as one of the leading construction sets in the UK has meant a particularly good year for Keating in terms of increased market share and financial performance, with turnover for the 2018/19 year up 25% on 2016/17. Instructing firms note a strong bench of experts and a refreshing approach to client relationship management that sets it apart.
Wilberforce Chambers
Not only has Wilberforce appeared in some of the most high-profile real estate cases of 2019, such as Canary Wharf v European Medicines Agency, but chambers has also clearly executed strategic objectives that were set out in its business plan for 2015-18, such as 97% increase in international receipts against a target of 30%; and a more than 30% increase in turnover generally (34%).
Previous Winners / Nominees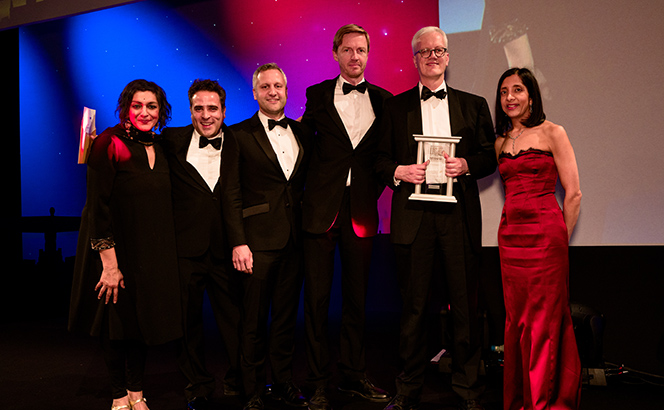 Winner
3 Verulam Buildings
Robin Jackson
Given its problems in 2016/17, when there was talk of 3VB imploding, this set has enjoyed a renaissance since with robust performance in a number of areas combined with a 20% year-on-year increase in turnover. A number of strong barristers have joined, notably Hodge Malek QC from 39 Essex Street.
Nominee
Red Lion Chambers HIGHLY COMMENDED
Mark Bennett
This criminal and regulatory set with over 100 barristers has 24 QCs – six of whom were appointed in 2018. Red Lion has developed a considerable reputation in its field, with former head of chambers and independent reviewer of terrorism legislation, Max Hill QC, recently appointed as Director of Public Prosecutions.
Nominee
Brick Court Chambers
Helen Davies QC, Mark Howard QC
Brick Court's position at the top of the commercial chambers tree is confirmed with a 12% increase in gross revenue reported – a significant increase for a large, mature set with 41 silks. The recent handover of the senior clerking team from Julian Hawes and Ian Moyler to their deputies, Paul Dennison and Tony Burgess, has been smooth and well-executed.
Nominee
Hardwicke
Amanda Illing
Seven new barristers have joined this set over the past year, and Harwicke has achieved an impressive financial performance of late with turnover up 12% on 2017. A standout matter was SKAT v Elysium Global (Dubai) Ltd: a claim by the Danish government to recover £2bn+ alleged to have been paid out pursuant to a fraudulent conspiracy.
Nominee
Keating Chambers
Declan Redmond
Keating's reputation is built on its construction and energy expertise and chambers reports that its financial performance in 2018/19 will match the 22% increase in turnover it achieved in 2017/18. In addition to some impressive and high-profile instructions, Keating is noted for its flexible and innovative approach to pricing, while 21% of its current crop of silks are female.
Nominee
Outer Temple Chambers
Rebecca Priestley
Noted for innovation and variety in its practice, Outer Temple was 'the first and only set' to register with Dubai International Finance Centre and Abu Dhabi Global Market, opening offices in both. Work includes public inquiries such as Grenfell, as well as major private sector cases such as the largest equal pay case against ASDA.
Nominee
Radcliffe Chambers
Fiona Fitzgerald
A strong 2018 saw this set's restructuring and insolvency team go from strength to strength, winning instructions on a number of business-critical cases and the adding three new members, while Tina Kyriakides has been widely acknowledged as a leading junior.
---
Previous Years