Categories
Boutique Law Firm of the Year
The entries have been assessed and our research completed: we are now delighted to reveal our Boutique Law Firm of the Year for the 2020 Legal Business Awards.
With specialist law firms striking an increasingly confident note in the market, this award goes to a niche practice that has performed exceptionally in terms of rapidly establishing itself, approaching its chosen market creatively and effectively competing against far larger competition.
Winner – Sacker & Partners
At 50 years old, the UK's original boutique law firm is still the benchmark for every one that has followed – and it is no hyperbole to say that Sackers is the definitive boutique.
All the boxes are ticked: a highly specialised pensions practice with a client base that is the envy of the global elite; with the most respected partners lawyers in the business who enjoy profit shares that match the Magic Circle. It acts for 30 of the biggest 100 UK pension schemes, more than twice as many as nearest rival Linklaters which has 14 appointments – most other leading firms have just a handful.
Sackers retention rate is high with an attrition rate of around 4% per year. Part of that strong retention rate is down to 57% of the partnership being female and 67% of the remaining fee-earner population. The firm is fully supportive of flexible working with more than 50% of partners and more than 30% of associates in flexible working arrangements. And Sackers is proof that a firm does not have to be a patriarchal sweatshop to succeed financially: with a profit per equity partner figure of £906,000 for 2018/19, it is the fifth most-profitable firm in the UK.
Partners at Sackers set an example and encourage all lawyers to become thought leaders in their field. For example, partner Stuart O'Brien has been appointed by the government to chair an industry-wide group looking at the whole area of sustainable investing by pension funds to address the challenges faced by climate change. David Farrer, senior policy adviser at the DWP, said: 'Sackers has played a leading role in ESG and other investment areas and has shone a really bright and clear light on the role trustees have to play. Their enthusiastic involvement and leadership in the Pensions Climate Risk Industry Group will make a real difference to how trustees approach this vitally important issue.'
While this category often highlights young, thrusting firms that have taken the market by storm, this acknowledges an established niche firm which over a very long time has seen off much larger firms and proved itself the very best in its field.
Highly Commended – The Law Boutique
This legal operations specialist, founded in 2017, has proved itself to be an invaluable resource for in-house legal functions with the aim of freeing GCs and their teams from low-risk, repetitive work to enable them to focus on work that adds real strategic value.
This boutique typically works for high-growth scale-ups, mostly in the tech industry, including Curve, Monzo, Stripe and Babylon Health. There is a clear demand for its rare offering of tech-enabled legal operations combined with bread-and-butter legal support, as demonstrated by its phenomenal growth since inception – it reports having serviced over 250 businesses in various industries and saw over 770% revenue growth in 2019.
Other nominations
Arc Pensions Law
Founded in 2015 with just two lawyers, Arc is now a national practice of 17 pensions lawyers with offices in Leeds and London. It works with over 200 trustees and employers, administrators and investment funds, and has ambitious growth plans above the £5m revenue it currently draws in.
Manders Law
Launched in September 2018 and tightly focused on its core client base, Manders Law is a nascent boutique focusing on family law issues for high-net-worth clients. With its suite of competitive fixed price products, Manders is already a challenger to larger, well-established competitor firms.
PCB Litigation
Specialising in fraud and asset recovery cases, PCB has made great strides in a saturated and ultra-competitive disputes boutique market. A fee income increase of 50% in 2019 and a 75% increase in headcount over the past 18 months underline its success.
Signature Litigation
Since its inception eight years ago, Signature has developed into a prominent feature of the City disputes landscape, not least because of the reputations of its 14 partners and the quality of cases it handles, such as the RBS rights issue litigation.
Previous Winners / Nominees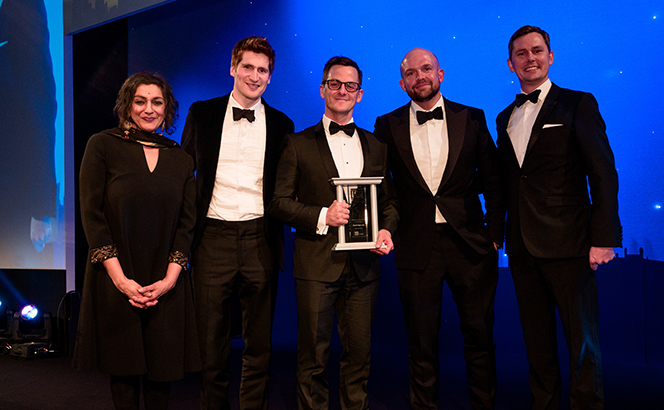 Winner
Northridge Law
Jon Walters
This newcomer, a spin-off of Charles Russell Speechlys' sports law team in late 2017, has quickly become the quintessential boutique practice: tightly focused, lean and commercially successful. Clients include the FA and a suite of individual Premier League players.
Nominee
Cooke, Young & Keidan HIGHLY COMMENDED
Robert Coffey
Another disputes boutique punching above its weight in the London litigation arena, CYK saw revenue growth of 29% in the last year and generates 75% of its income from areas outside financial services.
Nominee
BDM Law
Nick Burgess
Shipping, trade and insurance specialist BDM has performed exceptionally since establishing in 2015. Clients include the International Group of P&I Clubs, which collectively insures the liabilities of around 90% of the world's fleet and the firm predicts turnover for 2019 of over £3m – almost a 100% increase on 2017.
Nominee
CANDEY
Ashkhan Candey, Andrew Dunn
With an ever-growing reputation in the City disputes market, this 20-lawyer firm regularly clashes with some of the UK's biggest firms in the courtroom – little wonder, then, that PEP is in excess of £3m. Highlights include a third vital win for client Peak Hotels and Resorts against KPMG in the Court of Appeal.
Nominee
Fox & Partners
Catriona Watt
Founded in 2006 by veteran partnership law specialist Ronnie Fox, this employment practice has gone from strength to strength, culminating in a successful handover of the business to its current three-partner team. Revenues are projected to grow by more than 25% in 2018/19, the first full year of operation under the new ownership.
Nominee
Ignition Law
Alex McPherson
A spin-off from successful boutique gunnercooke in 2017, Ignition has hit the ground running. In 2018, turnover increased by 63% to £2.35m compared to its first months of operation the year before. A strong operations team means that the percentage of clients with outstanding invoices over 90 days old is only 2%.
Nominee
Kemp Little
Andrew Joint
One of the most established specialist practices in City law, Kemp Little has been a successful operation since 1997. This technology specialist has adapted to the market so successfully over the years that it is now a £13.7m business, increasing turnover 12% on the previous year.
---